Put Our Experience to Work for You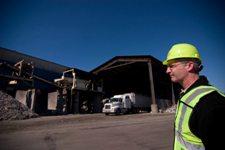 Mark Hart, the President of Training Consultants Inc., has over 25 years of solid waste management experience, including several years as a general manager of recycling and landfill operations, safety supervision, market research, business planning, acquisitions evaluations, community affairs, and environmental compliance. He has worked throughout the United States, Mexico and Central America.
Mark is fluent in Spanish and earned an MBA from the University of Central Florida in 1999. He has testified as an expert witness on behalf of private sector clients. He is authorized by OSHA to provide general industry and construction safety and health outreach training. He trains and certifies Solid Waste and Recycling Facility Operators and Spotters in Florida. His associates include Geologists, Chemists, Hydrogeologists, Architects, Engineers, Construction Superintendents, Industrial Hygienists, Attorneys, Equipment Manufacturers and Maintenance Professionals.
Project Summary: Recyclable Characterization
Training Consultants directed a team hired to perform a characterization of recyclables delivered to a facility operated by a confidential client. ASTM protocols were strictly adhered to in order to conduct random sampling of 36 loads of recyclables which were sorted into eight material types. Detailed reports were generated, and both parties agreed to utilize the results of the analysis, resulting in substantial savings for the client.