Solid Waste Operator Training: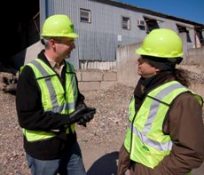 Mark Hart has trained and certified hundreds of Solid Waste and Recycling Facility Operators and Spotters in Florida according to FDEP requirements. Training can be conducted at your facility, or at a location convenient to you. Training sessions can be combined to include refresher training and initial training, and can be scheduled seven days a week. Spotter Training is conducted in English or Spanish.
Call now to arrange your next training session.
Custom Training Solutions

Training can be developed to meet your needs. Based on our years of experience, a custom made training program can be developed after a brief study of your current situation and goals. Click on the image at left to take a look at a presentation developed to address driver safety and hazardous waste identification for a client in Florida.